Windows XP
Windows Server 2003
Windows 7
Windows Server 2008
32-bit Application
64-bit Aware
SDW-XP-001
$195 US

Secure Desktop 7

Internet Explorer 8, 9 or 10

Secure Desktop 7 Manual

Windows XP
Windows Server 2003
Windows 7
Windows Server 2008
32-bit Application
64-bit Aware
CDW-XP-001
$95 US

ColdKey 7
Windows 98/Me/NT4/2000/XP
SDW-95-001
Included with Secure Desktop 7
Visual Automation believes that our customers should have the best experience possible. Secure Desktop 7 represents significant changes in features, configuration files, and operability. To ease this transition, we are including version 6.86 with Secure Desktop 7. You choose which version to use, per license, and upgrade to version 7 when it fits your time table.
Version 6.86 is very stable, and we consider it a "frozen" revision. New features will go into version 7.
30-Day Evaluation
If our software does not meet your needs, you may ask for a refund within 30 days of the original purchase.
Secure Desktop 7


Secure Desktop 7 is simply the best version of Secure Desktop we have ever created. Several years of development and testing went into this fantastic version of software.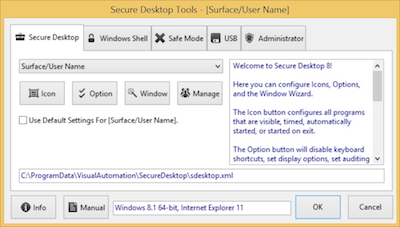 ColdKey 7
ColdKey 7 runs as a tray icon utility to disable over 350 different hot-key combinations.