Our online reseller,
Kagi
, offers convenient online ordering and download 24 hours a day, every day.
Downloads
XML
Configuration and User Auditing
All configuration data is stored in one XML file, perfect for multiple computer installs. Audit files are in XML format too, and RSS compatible!
Browser
Internet Explorer 8 - 10.
Secure Desktop 7 locks down Internet Explorer 8, 9 or 10. Full Screen Mode. Approved Sites. Just a few clicks to create an internet kiosk!
Documentation
Help. Adobe PDF.
Secure Desktop 7 has in-dialog help and tooltips throughout the impressive new user interface. The Adobe PDF manual has been re-written, top to bottom!
Keyboard
Over 350 Hot-Keys Disabled
Secure Desktop 7 has over 350 hot-key combinations to disable in Windows XP and Windows 7! These are system-wide, for any program. Take Control!
Windows 7
UAC Ready
Secure Desktop 7 is designed to work with the new User Access Control (UAC) in Windows 7. Run programs as Administrator. Single instance only. Re-start if closed.
Industries
Automation
21 CFR Part 11 (FDA)
Aircraft
Automotive
Bakery
Beauty Products
Beverage Industry
Biotechnology
Broadcasting
Chemical Industry
Distillery
Energy
Farming
Fire and Safety
Flooring Manufacturing
Food Manufacturing
Furniture Manufacturing
Glass Manufacturing
Laboratories
Laser
Lumber
Mining
Nuclear
Packaging
Pharmaceutical
Pipeline
Pulp and Paper
Steel Industry
Transportation
Waste Management
Water System
Weather Services
Point of Sale
Book Store
Coffee Shop
Furniture Store
Hair Care
Music Store
Outdoor
Party Store
Pet Supply
Restaurant
Sporting Goods
Community
Academy
Church
Hospice
Hospital
Industry Training
K-12 School
Library
Museum
Pre-school
University
Finance
Banks
Broker
Credit Card Processing
Credit Unions
Securities
Government
911 Call Center
Counties
Judicial System
Military
Municipalities
States
Police
Secure Desktop 7
For Windows XP and Windows 7
Best Version of Secure Desktop Yet!
Secure Desktop 7. Point of Sale, Cafe, Factory Automation, Lab, Kiosk, Hotel, Restaurant, or Library -- whatever your public environment, Secure Desktop will lock down Windows. Replace the start menu, task-bar, and desktop icons with the Secure Desktop shell to completely control what a user can or can not do.
Icon Wizard. Window Wizard. Icon Passwords. Keystroke Auditing. Tab Passwords. Disable Menus. Secure Desktop 7 provides the security tools you need. Over 350 hot-keys can be disabled for any program! Secure Desktop is designed for a computer running in a public area.
Specific features for Internet Explorer. Mozilla Firefox. Secure Desktop is the perfect endpoint security solution for a public internet kiosk. Get Secure Desktop 7 today!
Endpoint Security for Windows Since 1994
In 1994, Visual Automation built a simple shell program to replace Program Manager in Windows 3.1. Since then, Secure Desktop has secured every commercial version of Microsoft Windows. For Windows 7, Secure Desktop changed quite a bit, but we started with features that customers need. For Windows XP. And Windows 7.
Old technology has been removed. XML files are used for configuration and user auditing data. Instead of a help file, the help is now in-dialog, just like our very successful ColdKey product.
A new user interface has been designed to make Secure Desktop easier to use. The user interface is completely de-cluttered. Configuration dialogs are consolidated to streamline the use of Secure Desktop.
New features are everywhere. While working on the user interface, nearly every feature of Secure Desktop was studied and improved. Over 350 hot-keys disabled. Application launching. Window Wizard. New Icon Wizard. Secure Desktop 7 is simply easier to use and a more powerful endpoint security solution at the same time!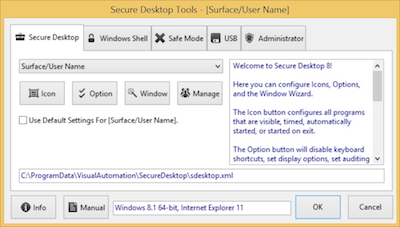 Industries Served
Factory Automation (HMI)
Secure Desktop is designed for control engineers using a Windows computer on the factory floor. Human machine interface (HMI), data collection, report generation, and soft control applications are mission-critical and therefore need the security features found in Secure Desktop.
21 CFR Part 11 (FDA)
Secure Desktop has several features to aid the pharmaceutical, biotechnology, food, and beverage industries. Using Secure Desktop, program and data access can be controlled, user activity can be logged to disk, and users can be automatically logged off from Windows due to inactivity.
Retail Point Of Sale (POS)
Secure Desktop is designed for IT professionals using Windows in the restaurant, retail, lodging, and resort industries. Point of sale (POS), inventory, customer-activated terminals, drive-thru, and kitchen order fulfillment are mission-critical and therefore need the security features found in Secure Desktop.
Kiosks
Secure Desktop is designed for IT professionals installing a Windows computer in a library, museum, cafe, airport, or college. Browsing the internet, browsing an intranet, or using a custom multimedia database on a public kiosk computer requires the security features found in Secure Desktop.
The Browser Is The Desktop
Secure Desktop 7 plus Internet Explorer 8, 9 or 10 is simply the best way to create a browser-based desktop system for factory automation, retail point-of-sale, hospitality kiosks, libraries, museums, schools, labs, and cafes. Anywhere a browser-based desktop is needed, Secure Desktop 7 provides the right solution.