Our online reseller,
Kagi
, offers convenient online ordering and download 24 hours a day, every day.
Downloads
iLock 3 Features
Mozilla Firefox 2 or 3
Password protection
Automatic deletion of private data
Re-start and delete private data after period of inactivity
Remove menu toolbar
Remove non-browsing keyboard shortcuts
Disable non-browsing internet protocols
Set location bar (URL) to read-only
Disable downloads
Create approved site list, so all other web sites are disabled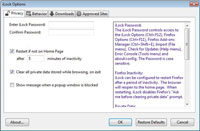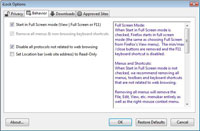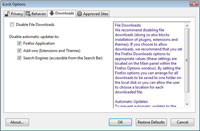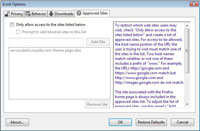 iLock 3
Visual Automation does not sell the iLok USB Smart Key. If you are trying to register, please visit iLok.com
The new iLock 3 is designed as an extension to Mozilla Firefox 2 or 3. iLock adds and removes the functionality you need to use Firefox in a locked down kiosk environment.
Mozilla Firefox 2 or 3
Firefox is a very secure browser, developed by the Mozilla Foundation. Firefox is a free download available at http://www.mozilla.com.
The Browser Is The Desktop
Secure Desktop 7 plus Firefox 2/3 or Internet Explorer 6, 7, or 8 is simply the best way to create a browser-based desktop system for factory automation, retail point-of-sale, hospitality kiosks, libraries, museums, schools, labs, and cafes. Anywhere a browser-based desktop is needed, Secure Desktop 7 provides the right solution.
Password Protected
iLock provides a case sensitive password for the Firefox Options (Ctrl+F11), about:config, Firefox Extension Manager (Ctrl+Shift+E) and the iLock Options (Ctrl+F12). New keyboard shortcuts were added for each dialog.
Private Data
When the iLock Firefox extension is enabled, all private data that is stored while browsing is automatically deleted when the browser is exited. The private data can also be deleted after a period of inactivity, while re-initializing the browser state to the home page.
Private Data includes Browsing History, Saved Form Data, Saved Passwords, Download History, Cookies, and the Cache.
Firefox Menus and Toolbars
iLock adds two modes to control the Firefox menus and toolbars: Full screen and a regular window. When Full Screen mode is enabled, Firefox starts Full Screen, just like if the View | Full Screen menu option were selected (F11). The min/max/close buttons are removed and the F11 keyboard shortcut is disabled. The regular window mode removes the File, Edit, View,... menubar.
Toolbars, the right mouse context menu, and keyboard shortcuts that are not related to web browsing are disabled with either mode.
iLock considers the following keyboard shortcuts non-browsing shortcuts and will remove them: Control N, T, O, W, S, P, B, H, U, D, M, J and F11; Control Shift D and Delete; F1. More detailed control over individual menus and keyboard shortcuts are available through the about:config page provided by Firefox.
Firefox Location Bar (URL)
Disable all protocols not related to web browsing will disable ftp, gopher, chrome, data, keyword, jar, javascript, resource, view-source and moz-icon protocols.
Any URL starting with about: or file: is disabled regardless of this setting.
Sometimes, you may want to use Firefox for essentially one web site (the home page). If this is the case, you can choose to not display the location bar (URL) or set it to read-only. You can still view it, but no longer manually type into it.
Disable Downloads
We recommend disabling file downloads and automatic updates.
Approved Sites
Using the Approved Sites feature, you can build a white list of approved web sites using a learning mode.